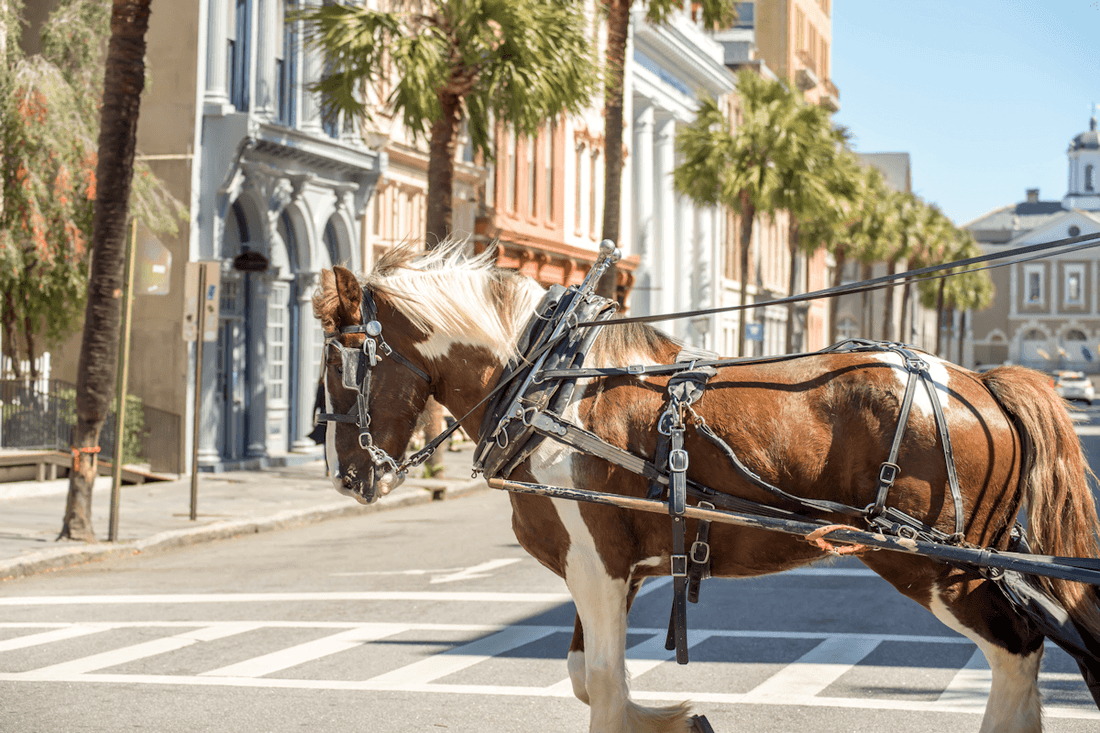 Things to do in Charleston: History, Art, Food, Gardens & Beaches
Activities listed in the top things to do in Charleston involve: History, Art, Food, Gardens and Beaches. Nestled along the scenic South Carolina coast, Charleston is a historic city teeming with southern charm, a vibrant arts scene, exquisite cuisine, and unparalleled natural beauty. From its well-preserved antebellum architecture to its modern boutiques, Charleston offers a uniquely rich and diverse experience to every visitor. This guide highlights the top ten must-do activities in Charleston that will allow you to experience the city like a local.
1. Explore Historic Downtown Charleston
The heart of Charleston is its historic downtown district, where centuries-old buildings are mixed in  with modern establishments, creating a uniquely charming atmosphere. A leisurely stroll through the cobblestone streets will lead you to notable landmarks such as St. Michael's Church, a quintessential example of colonial religious architecture, and Rainbow Row, a series of thirteen vibrant, historic houses. Don't miss the Battery, a landmark defensive seawall and promenade, offering panoramic views of Charleston Harbor. Take a stroll along the Battery and take in the history along with some fresh air and great views.
2. Discover Charleston's Art Scene
Charleston's art scene is as diverse as it is dynamic. The city is teeming with art galleries such as the LePrince Fine Art Galleries on King Street that showcase works from local and international artists alike. Explore contemporary art spaces, traditional Southern-style galleries, and everything in between. For art enthusiasts and collectors, a gallery crawl through Charleston is a must. Take a self-guided tour using our map join the crowd during the Charleston Gallery Association's ArtWalk on a first Friday.
3. Tour the Magnolia Plantation and Gardens
The Magnolia Plantation, established in 1676, is one of the oldest public gardens in the U.S. Its lush, year-round blooming romantic-style garden spreads over several acres, showcasing exotic flowers and fauna. The plantation also includes a pre-Revolutionary War plantation house, a wildlife observation tower, and a nature center, offering a cultural and natural history experience. Discover the rich flora in the romantic-style garden. Visit the Audubon Swamp Garden but lookout for the alligators. This is a unique blackwater cypress and tupelo swamp. Take a house tour to learn about the history of the plantation.
4. Visit the South Carolina Aquarium
A paradise for nature lovers and families alike, the South Carolina Aquarium is home to thousands of animals from South Carolina's diverse ecosystems. From the rich marshlands to the deep Atlantic Ocean, each exhibit takes you on an exciting journey through the state's diverse wildlife. Not to miss is the awe-inspiring Great Ocean Tank, a two-story, 385,000-gallon aquarium teeming with sharks, turtles, and hundreds of other marine species.
5. Experience Charleston's Culinary Scene
Charleston is renowned for its vibrant food scene, with a mix of traditional Southern cuisine and innovative gastronomy. Delight in locally-loved dishes like shrimp and grits, and She-Crab soup, a creamy, savory dish made from the region's fresh crab meat. And no meal is complete without the sweet, crunchy Benne Wafers, a traditional cookie made from sesame seeds. The city is packed with wonderful breakfast, brunch, lunch and dinner cafes and restuarants.
6. Take a Charleston Garden Tour
Beyond the public gardens, Charleston boasts a myriad of private gardens that display the city's horticultural heritage.  These hidden gems can be explored through a guided garden tour, offering you a chance to admire the local flora, beautiful fountains, and manicured landscapes, often hidden behind the city's historic residences. Visit the beautiful gardens at Middleton Place, a historic plantation with meticulously maintained landscapes. Explore the small, hidden gardens in the residential areas of Charleston through a guided tour. Visit the Charleston Horticultural Society's gardens, known for their unique Southern horticulture. Googling garden tours will yield many results.
7. Walk the Arthur Ravenel Jr. Bridge
The Ravenel Bridge, a cable-stayed bridge spanning the Cooper River, is more than just a feat of modern engineering. The pedestrian walkway offers an excellent venue for a walk or a brisk run, all while providing breathtaking views of Charleston and its surrounding waterways. Visit during sunrise or sunset for beautiful views of the city and harbor. Free parking lots are located on both sides of the bridge. Take part in the Cooper River Bridge Run if your visit coincides with this annual event in early April.
8. Take a Ghost Tour
Experience a different side of Charleston when the sun goes down with a guided ghost tour. Charleston's rich history is rife with intriguing, and often spine-chilling tales of the supernatural. Learn about the city's haunted past as you explore its historic district under the cover of night. Explore the haunted Old City Jail, which once housed some of Charleston's most infamous criminals. Visit the haunted graveyards and hear about the city's ghostly residents. Learn about the city's voodoo and pirate history.
9. Shop on King Street
King Street, one of Charleston's main thoroughfares, is a shopper's delight. From high-end fashion boutiques and antique shops to unique local businesses, King Street offers a diverse shopping experience. Whether you're in search of the latest trends, vintage treasures, or local crafts, you'll find it all on this bustling street.
10. Relax at Folly Beach
Situated just minutes from downtown Charleston, Folly Beach offers a serene escape from the city's hustle and bustle. The beach is a favorite spot for surfing and fishing, but it's just as perfect for lounging on the sands and soaking up the sun. As the day winds down, there's nothing quite like watching a beautiful Carolina sunset over the Atlantic. Enjoy surfing or stand-up paddle boarding in the Atlantic waves.. Take a leisurely walk along the Folly Beach Pier. Try local seafood at one of the many beachside restaurants.
In Conclusion
The essence of Charleston, South Carolina, lies in the city's ability to seamlessly weave the threads of its historic past with the vibrant tones of the present. As a city steeped in history, Charleston allows visitors to take a step back in time as they wander through the cobblestone streets of the historic downtown district, visit storied plantation houses, and stand on the grounds of hauntingly beautiful graveyards.
Yet, Charleston is also a city that pulses with life and creativity, as evidenced by its dynamic art scene. Art lovers will be delighted to uncover the diverse array of galleries, each showcasing thought-provoking works from both local and international artists. These spaces not only stand as testaments to human creativity but also provide a window into the city's cultural heartbeat.
Go Outside
The city's love affair with nature is also evident. A visit to Charleston is never complete without spending time in the great outdoors, whether it's by taking a relaxing stroll in one of the many meticulously cared for gardens, crossing the Arthur Ravenel Jr. Bridge on foot, or unwinding on the pristine sands of Folly Beach. The abundance of natural beauty further accentuates the city's charm, making it a perfect destination for both adventure lovers and those seeking tranquility.
No exploration of Charleston is complete without diving into the city's unique culinary scene. Charleston's gastronomy is a delightful fusion of traditional Southern flavors, fresh seafood, and innovative culinary techniques. From upscale dining establishments to charming bistros, every meal in Charleston promises to be a gastronomic adventure.
Ultimately, Charleston's magic lies in its ability to provide a multifaceted experience for every visitor. The city's charm lies not only in its historic sites, art galleries, gardens, beaches, or its shops but in the unique blend of experiences it offers. The rich tapestry of sights, sounds, flavors, and experiences make Charleston a truly unique destination, leaving every visitor with cherished memories and a longing to return.
From the moment you set foot in Charleston, you're not merely a visitor, but a part of the city's ongoing narrative - a tale of history, art, nature, gastronomy, and Southern hospitality that is as captivating as it is unforgettable.